Large Meeting Room Solution
Large Meeting Room Solution
Large conference room is a discussion base for enterprises to enhance the efficiency of internal communication and make operation efficient and smooth.The intelligent and efficient video conference system can help the organization to speed up the decision-making process meanwhile ensure the efficient and smooth operation.In addition to high-quality audio and video collaboration capabilities, extended voice pickup and larger display space are often included.
ROCWARE can provide products with video functions and enterprise collaboration to support dozens of participants. Meetings of large groups and government agencies are mainly focused on group training, leadership presentations and work reports.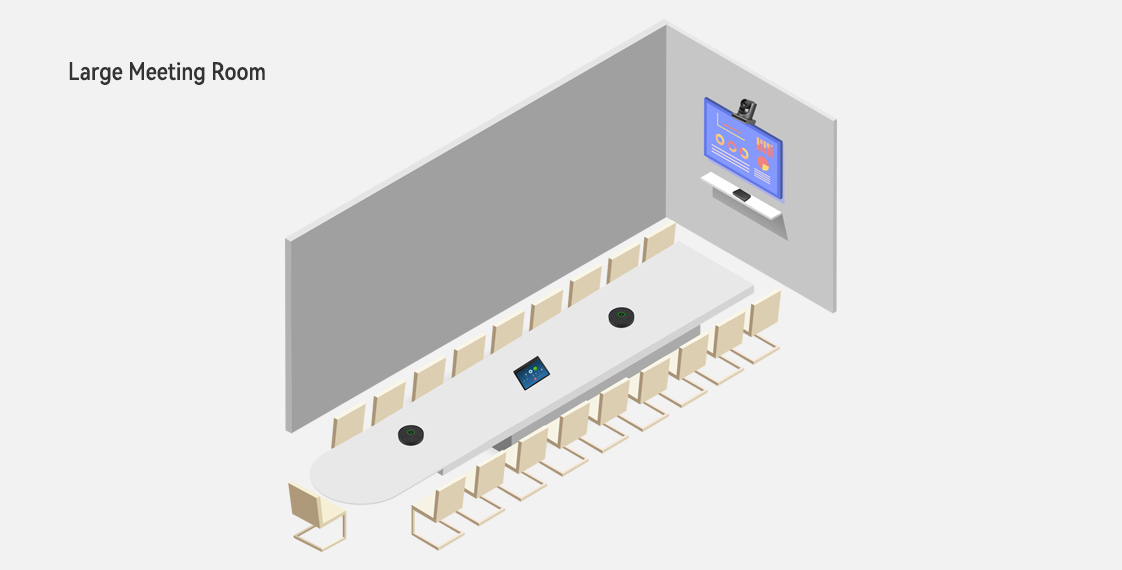 Scenario Challenge
A single camera cannot capture the whole scene due to large space, and the audio is not clear when there are many participants involving and speaking.
The regular conference mode is single, and it is very expensive to deploy additional servers.
Large conference room, the main conference room is separated from the control room, which increases the difficulty and cost of wiring.
• Information confidentiality
Executive meetings involve business secrets, communication security and privacy are very important.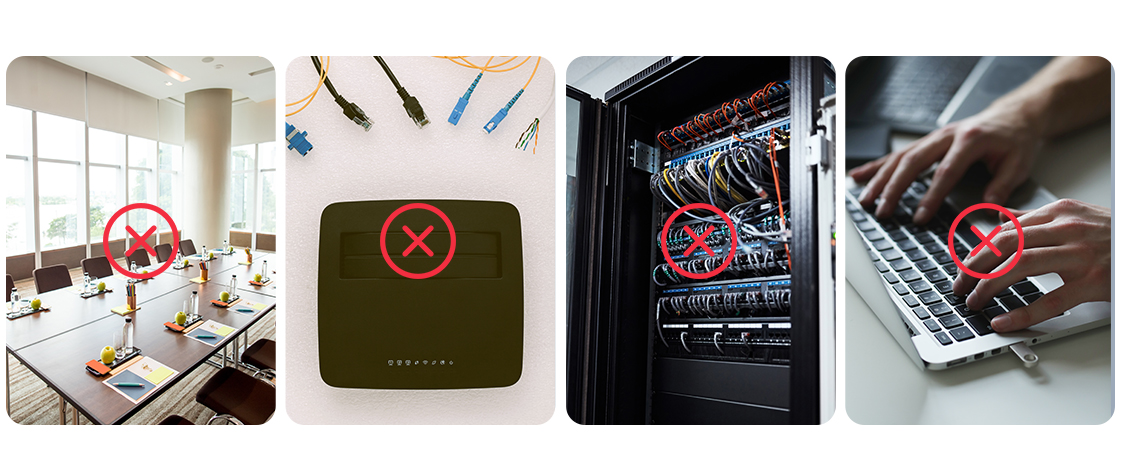 Solutions
A large conference room carrying many important functions of an enterprise that requires a complete, stable and efficient video conference system to help the enterprise improve office efficiency and develop steadily and rapidly. ROCWARE large conference room solution includes RC58 USB PTZ camera, CM800 with built-in microphone, speaker and conference console, expansion microphone M80 and microcomputer as a complete hardware kit, perfectly compatible with Zoom Rooms software to meet the needs of large conference room video and efficient collaboration , inspiring a new imagination of smart office in large conference rooms.
ROCWARE large conference room solution equipment list
•

CM800 intelligent control conference terminal
•

M80 USB omnidirectional microphone (extension microphone)
•

Microcomputers

Deployment Recommendations
This scheme is suitable for large conference room or large venue. RC58, an intelligent video conferencing product, is suitable for such conference room, 12x optical zoom capability can meet the close-up needs in a large space. The CM800 intelligent control conference terminal can meet the requirements of large conferences.It can be easily deployed with only one standard network cable from the control room to the conference, and can meet the needs of viewing the conference from multiple perspectives.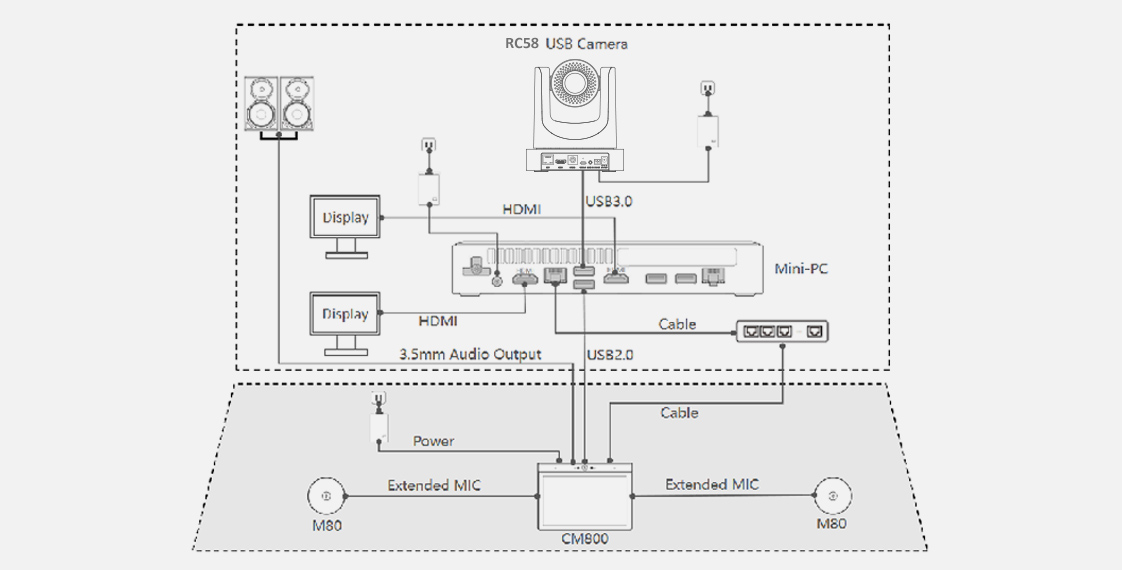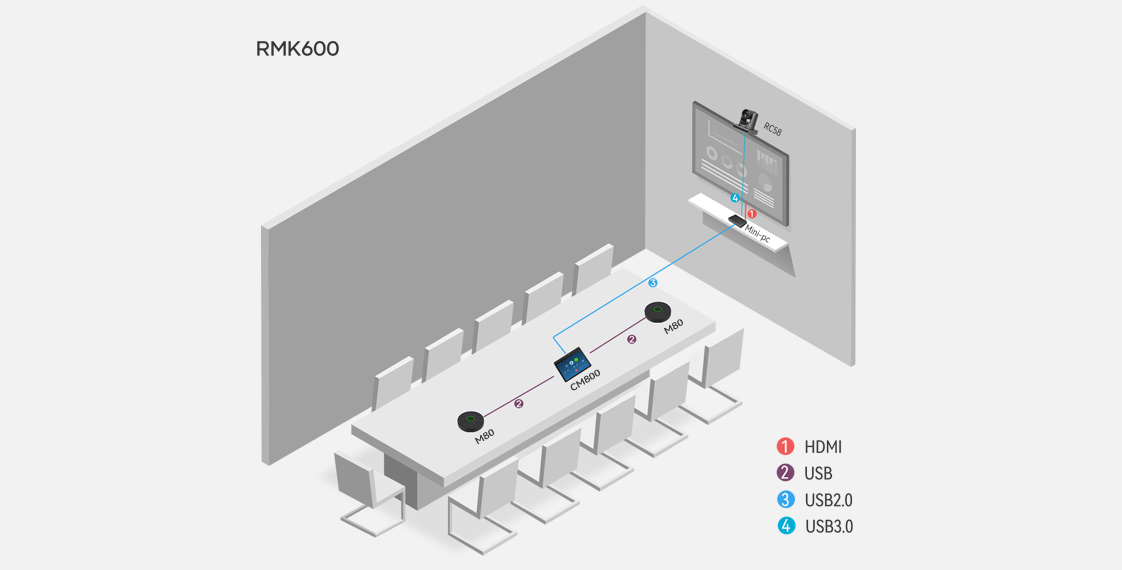 Solution Advantage
•
3-in-1 design, easy to use
CM800 intelligent control terminal integrates microphone, speaker, and conference console. Support PoE power and be able to collect and play audio through a USB cable, greatly simplifying deployment. 10.1-inch 1280x800 pixel HD muti-touch screen and Zoom Rooms control software provide users with the ultimate operation experience. Allowing easily create/join a meeting, adjust volume, mute microphone, manage meetings, desktop presentations and other functions,greatly improving meeting efficiency.
•
Enjoy extraordinary sound quality
CM800 has built-in high-sensitivity, high SNR array microphones and high-fidelity speakers, with high-performance automatic noise suppression, automatic gain control, and automatic echo cancellation algorithms. Pickup distance is up to 6 meters, speaker power up to 10W. Two expansion microphones can be connected to expand the pickup range by 2 times. Intelligent switch between the main mic and the extension mic ensures clear and natural pickup of all participants' voices. 3.5mm audio output port of CM800 can be connected to external speakers, greatly improving the audio experience in large and medium-sized conference rooms.
•
Ultimate Video Experience
RC58 USB PTZ camera, support standard UVC protocol, plug and play; New CMOS image sensor with ultra-high SNR can effectively reduce the image noise under low illumination. Meanwhile, the application of 2D and 3D noise reduction algorithms dramatically reduces image noise. The image maintains clean and clear even under ultra-low light illumination. Support DRC, easily cope with different lighting environments, and restore the most realistic images in harsh environments, greatly improving the video conferencing experience.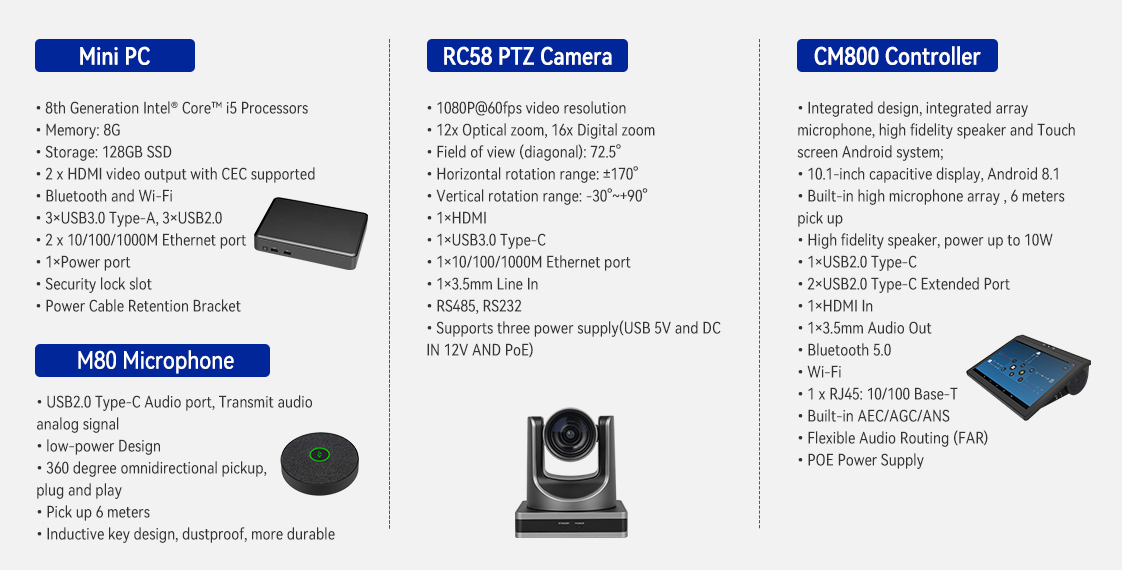 •

Controller-Smart Touch Screen Terminal
•

Windows 10 IoT Enterprise x64 operating system
•

Windows 10 ioT Enterprise License
• unshielded network cable 3m (computer)
• 1*1.8m HDMI cable
• 10m CAT6 unshielded cable (control pad)
If you are interested in this conference system kit, you can click this link to buy:https://www.rocware.store/Rocware-RMK600-Large-Room-Video-Conference-system-Kit-p1978779.html
Message
Please tell us your purchase requirements or the product you are looking for, we will be glad to offer you relevant suggestions or quotations