Medium Meeting Room Solution
Medium Meeting Room Solution

In modern enterprises, a medium-sized conference room that can accommodate 6-12 people is usually the place where important decisions of the company take place. Generally, this is the venue for the company to hold core meetings, such as executive meetings. As meeting rooms get larger, tables get longer, and people move further and further away from cameras, there is a need to provide a greater range of voice pickup. The need for video collaboration in meeting rooms has increased, and there is a need for expanded voice pickup requirements and simple and intuitive meeting operations. To make the conference room support video collaboration, it must meet the needs of voice pickup range, visual coverage and unified communication integration. It is necessary to install an intelligent and efficient video conferencing system to help enterprise operate efficiently and improve the decision-making power and competitiveness,so as to provide remote participants with always smooth meeting experience.
ROCWARE provides you with reliable mid-sized conference room solutions that help enhance meeting effects and enable your team to focus on communication rather than technology.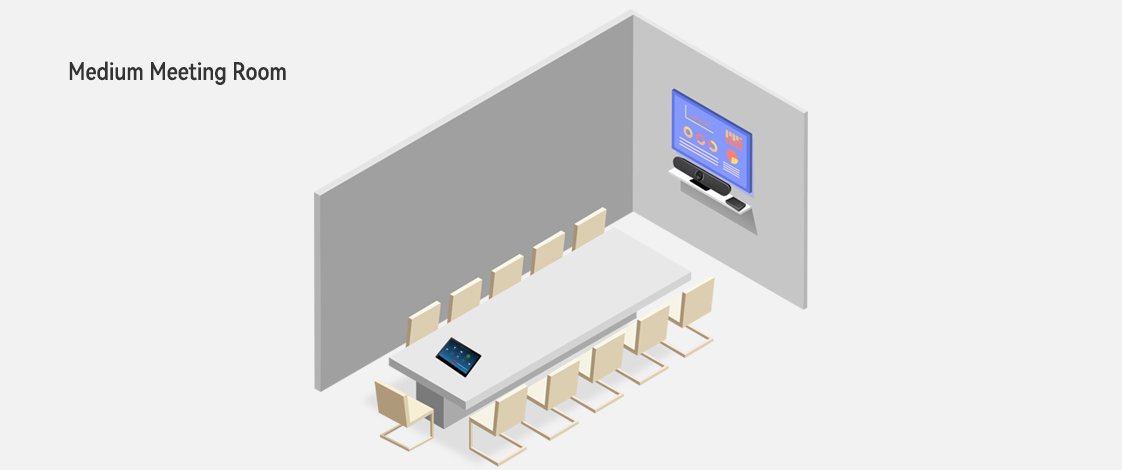 Scenario Challenge
• Complicated Deployment
Video conference deployment is troublesome, the steps to hold a meeting are cumbersome, and professional personnel are required to operate and maintain.
• Difficulty in use
The microphone needs to be passed around for voice pick-up constantly, and it is very troublesome to hold the microphone when walking around and giving a speech.
• Single mode
The regular conference mode is single, and it is very expensive to deploy additional servers.
• Information confidentiality
Executive meetings involve business secrets, communication security and privacy are very important.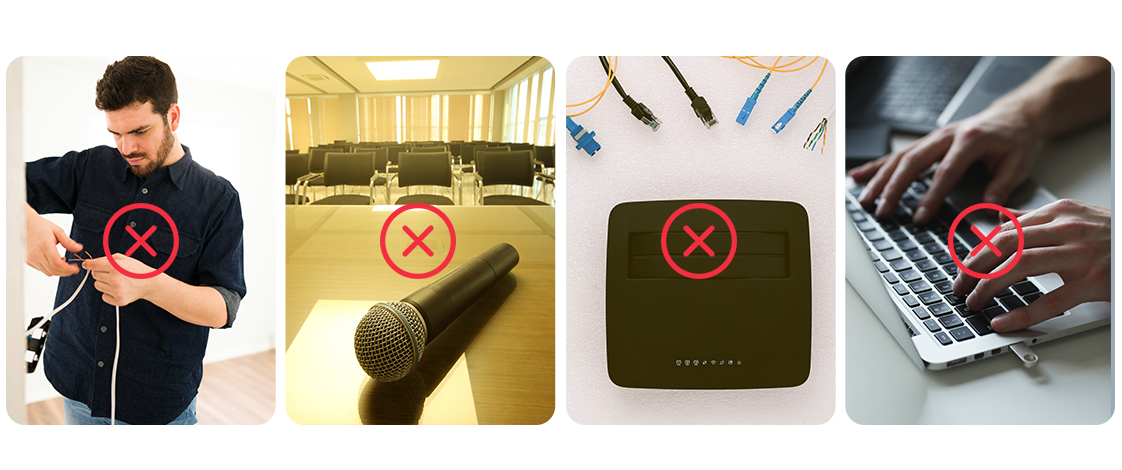 Solutions
Medium-sized conference rooms frequently used by the company need an easy-to-use, high-quality video conference system, which can clearly convey everyone's expressions and opinions, to achieve efficient communication.
ROCWARE RMK400 conference solution for medium conference rooms, this package includes RC10 4K Ultra HD All-in-One USB Camera, RT10 conference control panel and Mini -PC,which will make mid-sized conference rooms smarter and more efficient.
ROCWARE Medium-sized Conference room solutions equipment list
• ROCWARE RC10 4K Ultra HD All-in-One USB Camera
• RT10 conference control panel
• Microcomputers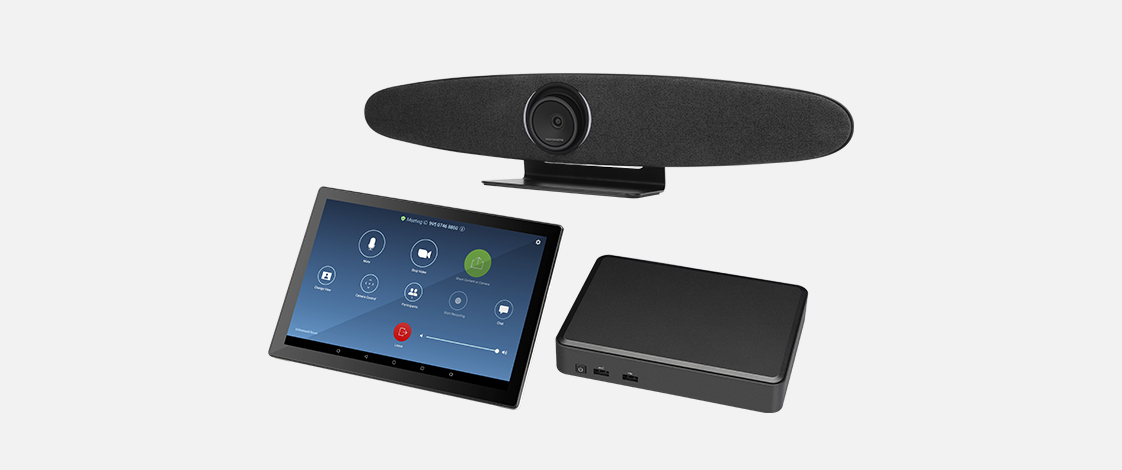 Deployment Recommendations
This solution is suitable for medium-sized conference rooms, which can seat 6-12 people. RC10 4K HD all-in-one conference camera is suitable for this kind of conference room. It is equipped with RT10 conference control panel, 110° Angle of view and 5x digital zoom capability, which can not only meet the needs of small space, but also meet the needs of certain close-up. 6 meters pickup can completely cover all participants, one expansion microphones can be connected to expand the pickup range by 2 times.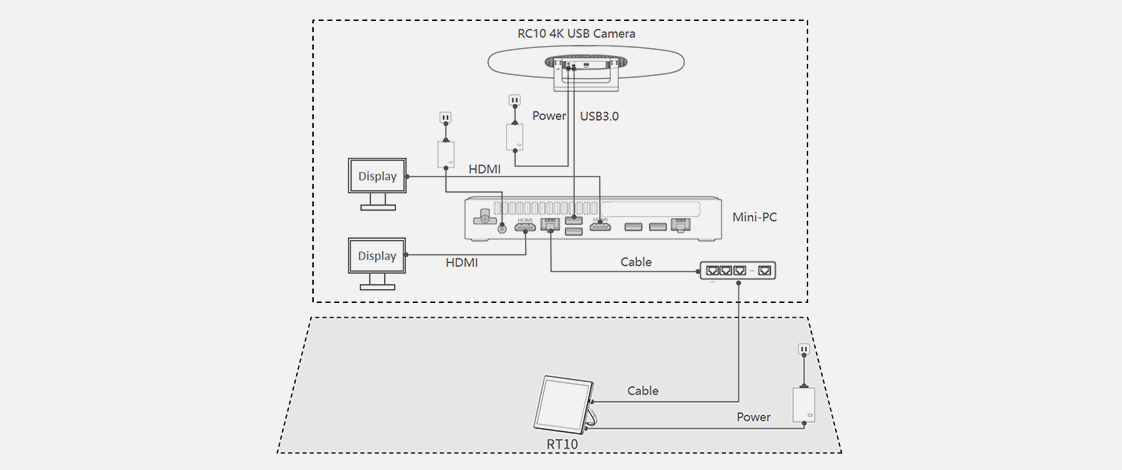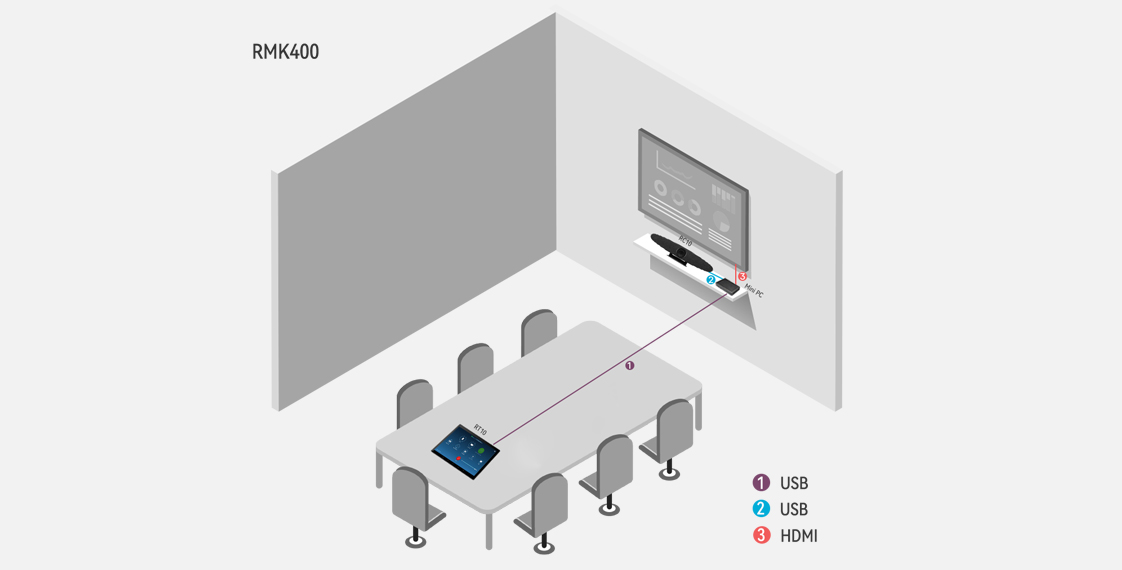 Solution Advantage
• Simple deployment and easy operation
RMK400 Zoom Rooms solution provides you with an independent touch panel separate from the Mini-PC, which not only makes deployment more flexible, but also provides you with a neat and smart conference table. 10.1-inch 1280x800 pixel HD muti-touch screen and Zoom Rooms control software provide users with the ultimate operation experience. Allowing easily create/join a meeting, adjust volume, mute microphone, manage meetings, desktop presentations and other functions,greatly improving meeting efficiency.
• Enjoy extraordinary sound quality
RC10 has built-in beamforming (BF) microphone with a pickup distance of 6 meters. Low-distortion lateral beamforming algorithm guides the microphone directly to the speaker, making better sound and clear communication. Built-in audio 3A algorithm (AEC/AGC/ANS), full-duplex call, meets the communication needs of different room structures, no matter sitting at the conference table, next to the person or standing, they can achieve comfortably and clearly communication. Full-frequency high-fidelity speakers, professional acoustic design, reduce sound interference and provide extraordinary sound quality.
• Ultimate video experience
RC10 4K UHD camera supports standard UVC protocol, plug and play. Built-in intelligent analysis algorithm, listening to the sound to identify the position, auto framing function, automatic speaker tracking, and switching of the speaker screen to ensure that the speaker is always clearly in the screen, greatly improves the experience of video conferences. With the zoom without distortion and a large viewing angle, the image clarity, color reproduction, and light adaptability are greatly improved, ensuring the smoothness of the video conference, making the details more rich and vivid, allowing panoramic view of the venue. At the same time, when privacy protection is required, the video screen can be turned off through the remote control, and it is in a non-standby state to protect the confidentiality of executive meetings.
RMK400 Zoom Room medium and large conference solution is a complete hardware package consisting of RC10 which is integrated with camera, microphone and speaker, RT10 conference control panel and microcomputer. It is perfectly compatible with Zoom Rooms software and provides a one-stop high-quality audio and video conference experience.
Product Advantage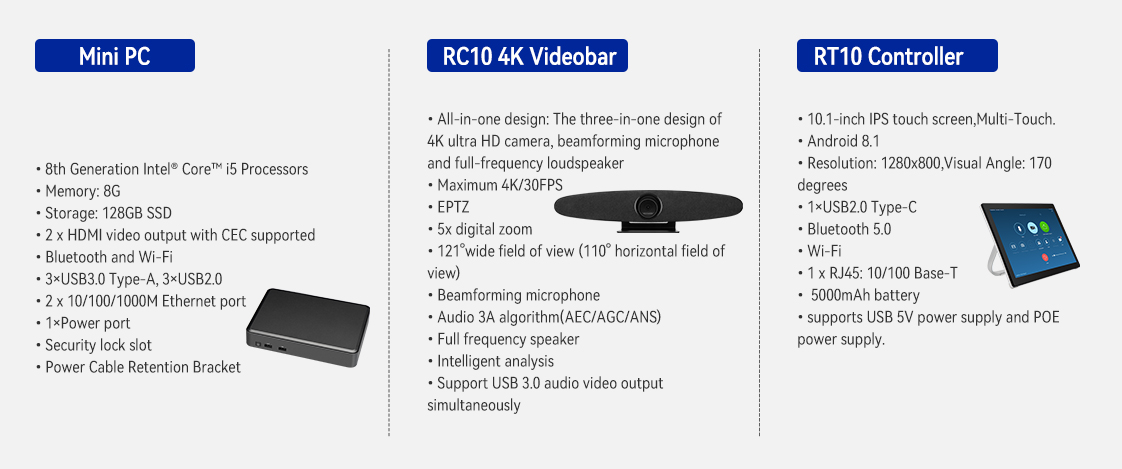 System components
• Mini-PC
• RC10 4K USB All-in-One Camera
• RT10 Controller-Smart Touch Screen Terminal
• Windows 10 IoT Enterprise x64 operating system
• Windows 10 ioT Enterprise License
• RMK400 accessories
Product Adanvatage

RMK400 Accessories
• CAT6 unshielded network cable 3m (computer)
• 1*1.8m HDMI cable
• 10m CAT6 unshielded cable (control pad)
If you are interested in this conference system kit, you can click this link to buy: https://www.rocware.store/Rocware-RMK400-Middle-Room-Video-Conference-system-Kit-p1978100.html